Powerful Answers Networkfleet
The Powerful Answers campaign showcases how Verizon uses innovative technology to find solutions to the world's biggest challenges. Each phase of the campaign featured a unique solution promoted on TV and accompanied by more in-depth information online.
Client
Verizon
Agency
dentsu mcgarrybowen
Role
Design Direction
UI Design
Motion Design
Deliverables
Website
TV Spot Interface Design
Tools
Photoshop
After Effects
Illustrator
Cinema 4D
Website Design
The campaign website housed each solution in a series of plain, text-driven templates. Users found the existing site confusing and underwhelming while analytics revealed low engagement and a high bounce rate. It was our goal to create an online experience that matched an innovative solution with an equally innovative website.
We were tasked with promoting Networkfleet, Verizon's vehicle tracking technology. Networkfleet employs telematics to deliver real-time vehicle data over the Verizon network. Fleet managers use this information to help lower maintenance costs, reduce vehicle idling, improve driver behavior, streamline routing and reduce fuel usage. Our client challenged us to create an experience that not only advertised this B2B solution, but also improved brand affinity among a millennial audience. In addition, engagement was a key performance metric.
Since fleet management isn't exactly top of mind for a general audience, we had to find a relatable way to tell the Networkfleet story. We grounded the technology by connecting it to the well documented impact of vehicle emissions on the environment. We split the story into three sections – challenge, solution and action. Within each section, the user is lead through a series of interactive "scenes". Each scene is designed to eliminate distraction and to generate engagement through quizzes, infographics and full screen video snippets. A user can move through the story in a variety of ways, ensuring ease of use, while an adaptive approach ensures an optimal experience across devices.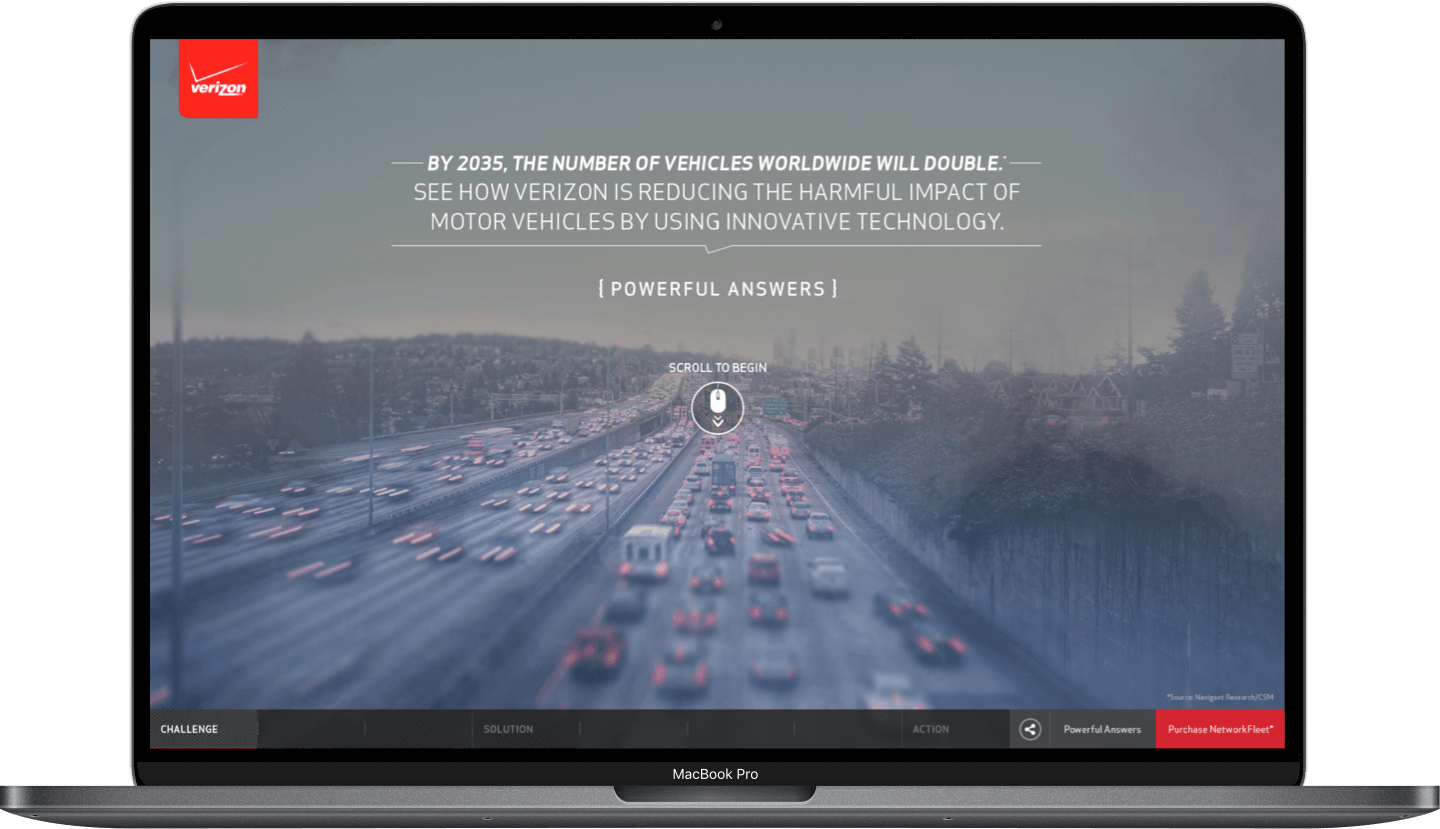 Website Capture
Here is a video capture of the site where you can experience the story and the various interactive elements of the site.
Inhale/Exhale Spot
In this spot, I had the opportunity to design all the interface UI elements that appear on all the screens.
Specifically, at timestamps 00:14, 00:18, and 00:24.
Here are the brand colors that help consumers to quickly identify a brand in our designs.